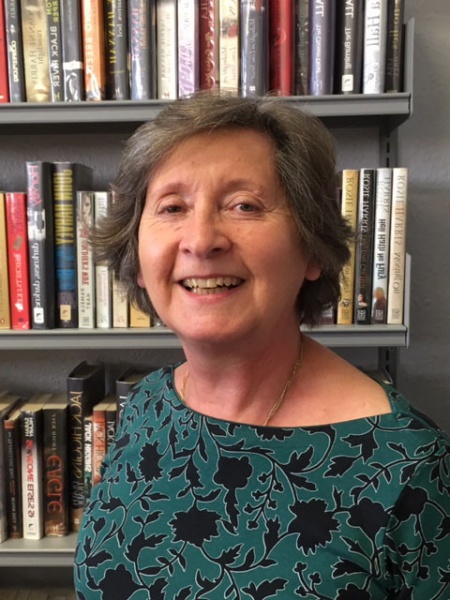 Susan Hall, one of Bedale Community Library's fantastic volunteers, writes of her first experience as a Library Volunteer.
The library - a place of calm and tranquillity or so I thought until I became a volunteer at Bedale Community Library. I have always been a keen reader and supporter of the library and went along to one of the initial meetings to hear about the plans for saving the library. My sister-in-law is a volunteer at her local library and has always been very enthusiastic about the experience and encouraged me to apply. Having recently retired I was looking for something to occupy mind and body and after all what can be so difficult about sitting behind a desk and issuing a few books!
Wrong - the modern library is a hive of activity with much more happening and SILENCE is no longer golden. I was soon to discover that there is a lot to learn about organising and running a library. NYCC Library Services provided the volunteers with a comprehensive training programme covering all aspects of the day-to-day activities we could expect to deal with - issuing and renewing books, dealing with the public, use of computers (especially Soprano), ordering, shelving, fines for overdue books, data protection. However, this still did not prepare me for my very first session when the doors opened and the public arrived.
A moment of panic set in when I was approached by my first customer, a query about a book that she had ordered. Putting on my best smile and attempting to appear as if I know what I am doing, I access her details on the computer and manage to navigate my way around Soprano to find the answer. The telephone then rings, a lady would like to renew her books, she asks if she can do this over the 'phone. So back into Soprano and success as I manage to find her account and renew her books.
So far so good and then a request from a young man who has come in to pay a fine that his father has incurred but he does not have his library card - help! Luckily we have amazing support from Laura and Ruth who have endless patience with the questions and queries with which they are constantly bombarded. With assistance I find the right account and then have a lesson on how to enter the money for the fine.
The afternoon continues with requests from other libraries for books, shelving returned books and constant queries from the public. I look up at the clock and the afternoon is nearly over and suddenly the library has gone quiet - is there time for a cup of tea and a recap of the afternoon?
The general consensus of the public is that they are very grateful that the library is staying open and for me, I am really looking forward to my next session as a 'Librarian'.
If you have a story to tell about your experience as a volunteer at Bedale Community LIbrary, please email committee@bedalecommunitylibrary.org.uk (FAO Liz Bostock). We'd love to here from you.
Published: 01/05/2017 Published by: Bedale Community Library
Return to News Page.